Plumbing Services
From Clogs to pipe breaks, septic pumping to water heater issues, you need fast and dependable residential plumbing services. Put us on speed dial for all types of emergencies that crop up, as well as replacement, installation and repair.
Many things can go wrong with that complex network of traps, pipes and lines that run through and under your house. They rely on pressure, gravity and mechanics- things that baffle the average homeowner but which an experienced residential plumbing services company understands.
We'll handle your plumbing troubles with total confidence and a guarantee on all installations.
24/7 Emergency Residential Plumbing Services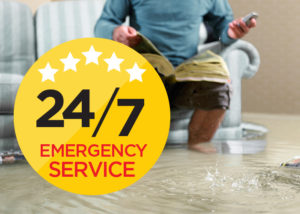 Our residential plumbing services can be there any time to serve you. No problem is too big or too small. We bring what's needed to investigate and solve the problem. We're happy to work with your insurance and restoration companies if the damage is covered.
Bust Up Clogs Fast
Call our residential plumbing services now if you have clogged toilets or backed-up drains. We know how distressing it is when dirty water won't go down, or worse, keeps rising. When a plunger just isn't doing the job, we're just a phone call away.
Free Inspections and Estimates
If you have drains that clog repeatedly, we can look over your pipes and give free advice on keeping everything in tip-top shape. We can look over your entire system, if you wish, and recommend adjustments and change-outs.
Convenient and Affordable
We accept most major credit cards, and we keep our costs affordable through sound business practices.
We are homeowners, too, and understand the many problems that can pop up in plumbing. Call us for:
Drain Cleaning
Clogged toilets
Leak detection
Clogged drains
Water Leak Repair
Do you have unexplained moisture on the floor? Have you seen a sudden spike in the water bill or a drop in water pressure? Leaky pipes or lines may be at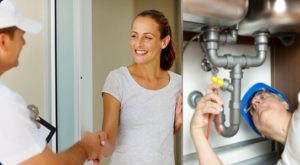 fault. Soldered joints or PVC can be damaged from age or too much internal pressure. In the home, this can reduce water force when you turn on the tap or cause mysterious puddles. Leaks are no mystery to us! We'll find the source. Count on a fast, complete fix of your pipes or complete water line replacement if needed.
Fast Sewer Line Repair
A sewage backup is a health emergency that needs urgent attention. The pipes used to carry wastewater from your home to your neighborhoods main line may be old and worn. They might be too thin to prevent encroachment from thirsty tree roots. We will attack the problem using high tech sewer jetting equipment. We can also identify the problem areas with sewer camera equipment. You can see exactly what's going on in real time. By homing in on the source, we can save you time mess and money.
Speedy Septic Tank Cleaning
Your septic problems will be a thing of the past when you call us for service. Our experienced technicians will locate your tank and pump it out, plus check the lines to ensure the water is flowing once again.
Water Heater Replacement
Rusty-looking water coming out of the faucet, strange puddles, and water that just doesn't get hot enough are all signs your hot water heater needs attention. These workhorse appliances usually last 12 years or less. Our plumbing services can replace yours with a more energy- efficient unit quickly. We'll let you know if the new tankless water heaters are right for your home. When you have a problem with your pipes, drains and fixtures, you can't afford to wait.
Home Renovations
Thinking about updating that bathroom or kitchen? Great, we can help! We work with all sorts of contractors, whether yours or ours we'll get it done. With more than 20 years of experience we can handle any type of renovation.
We provide fast reliable residential plumbing services from Fort Lauderdale to Boca Raton and West Palm Beach, FL.